Hello Dear everyone, how are you?
Thank you for your wonderful comments.
I am deeply grateful.
Now, on the previous article "Solid Growth
of Recent US Economy achieved by your
good deeds" (below), I added a new sentence
about the "Sarajevo Incident" that caused
World War I. (May 4, 2020)
Please see from "Read More" below.
And this time, I made the following
"NEWSLETTER."
However, my site is not yet affiliated
with a company that has a "complete
mail delivery system," so I cannot
deliver it directly to your email. In the
near future I will partner with them.
Therefore, this time, the item
"NEWSLETTER" was set in the
MENU of the site, and the above 
NEWSLETTER was put there.
So please read this time by
clicking "NEWSLETTER" in the
MENU. You can also open it by
clicking the image above.
I will continue to add new ones
on a regular basis in the future.
Eventually I'd like to create
a subscription membership on
this site someday and send
a NEWSLETTER to your email.
Best Regards for the future.
New Text added to
the previous article
As a historical event similar to
this case, in the early 20th century,
1914 in Sarajevo, Austria, where the
Austrian heirs, Franz Ferdinand and
his wife, were killed by one young
man. (June 28, 1914)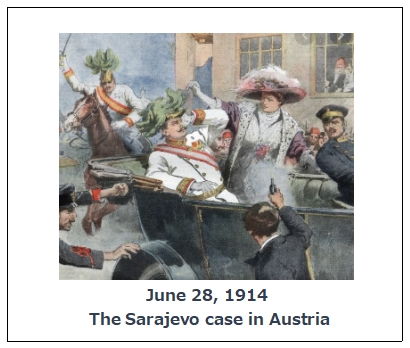 Unfortunately, the assassination incident
at this time escalated to the
unprecedented Great War, World War I.
The assassinator who assassinated
Franz Ferdinand and his wife was a young
man in a Serbian nationalist organization
who was against the Austrian government.
Serbia had a strong antipathy for Austria's
annexation of the Bosnian region, including
Sarajevo, in 1908 (Above chart). Also behind
this assassination there was an Ethnic
Conflict between Austria and Serbia.
Austria and Germany are Germanic races,
while Serbia and Russia are Slavic races,
and there has been a severe ethnic conflict
between them.
Against this backdrop, when the
assassination of Sarajevo occurred,
Austro-Hungarian Empire was put in a
"Retaliation Attack" against Serbia
(June 28, 1914). And when Austria
invaded Serbia, Russia then, which has
supported Serbia invaded Austria
(Above Figure). Next, when Russia
invaded Austria, Germany, which was
supporting Austria, declared war on
Russia.
In this way, Russia, Germany, France,
Belgium, England, Bulgaria, Romania,
Ottoman Turkey, Japan, etc. entered the
war one after another, and the United
States last participated, leading to the
development of World War I.
And because it was a World War, it has
caused so many victims in every nation
of the world that it was incomparable
to previous wars. It is immeasurable
how many citizens have been displaced
their home and destroyed their lives.
Must not repeat such a thing. Including this
time case, it is necessary that we (and you)
perform the "Action of Real Result,"  reveal
the law of the origin, and by the power of
its law, completely treat and end
all dangerous incidents while they are small.
Again, as a first step for that purpose, 
you define this incident as the
"incident that occurred to reveal the law
of the origin." And then perform Act① and
Act②'s acts of mercy and wisdom, reveal
the law of the origin and its powers, and
treat them while it is small.
Read more