Basic Papers of the site
Here are the basic papers you should read
when reading articles of this site. Two articles
below correspond to that.
In these two articles, the Law of Origin was
referred to as "The Law of the Origin" so far.
From now on, it will be unified to "The Law of
Origin." I will correct it at a later date.
――――――――――――――――
The power of the law to expand
the power of citizens' goodness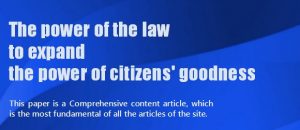 Explain the five processes 
 by cause and result